This year, in honor of International Women's Day, I'm taking the time to support women who are doing incredible work despite all odds.
It's important for me to not only talk about how amazing I think women are, but to support them and uplift them. I have to walk the walk, not just talk the talk. For this, reason I wanted to share some really amazing work that women I know are doing today.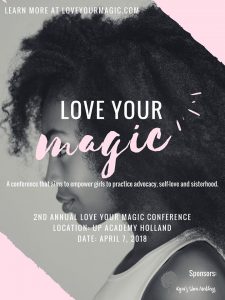 The Love Your Magic conference in Boston, hosted by several African American and Afro-Latina women, was created in hopes of helping young black and brown girls learn advocacy, gain self-love, and find sisterhood. This conference will be held in April and still needs funding! Check out their gofundme page.
Helping inspire future female leaders starts young. Bryn Mawr is a space created with the hopes of producing fearless female leaders that will change the world. This conference is attempting to inspire young black and brown girls to be those very leaders. You never know if one of the girls attending this conference will be a future Mawrter!
Recently, I've blogged about my experience with coming to terms with the ways in which my ethnicity and race co-exist. Often, experiences like this are left out of the conversations of mainstream feminism. So this International Women's Day, I encourage us to pay special attention to the women who are bringing these conversations into the table.
My sister recently published her first article on HuffPost about black Latinxs and how including them in the census will help us understand how their experiences differ from that of lighter-skinned Latinx people.
I think it's extremely important to listen to the voices and read the work of women of color this International Women's Day. These are voices that are often left out of the conversation. We can't just say we support all women, we have to actually support them by donating our time, attention, and/or money to their work.
I urge everyone to look around them and notice the hard work that women they know are doing. Ask them what they're passionate about, share their articles, donate to their conferences, amplify their voices. Women have always been fearless advocates and activists. This International Women's Day, support them in their journeys.