I spent this year's spring break doing something I never thought I'd dedicate "break time" to: reading. I've never been much of an avid reader. My professors at Bryn Mawr have always kept me busy reading articles, research journals, anthologies, and all kinds of books. But I have seldom taken the time outside of course material to read for fun. This year, however, because of my "new year, new me" mentality as I returned from study abroad, I've been trying to make myself an avid reader.
And in the spirit of Women's History Month, I wanted to recommend some interesting reads by amazing women authors.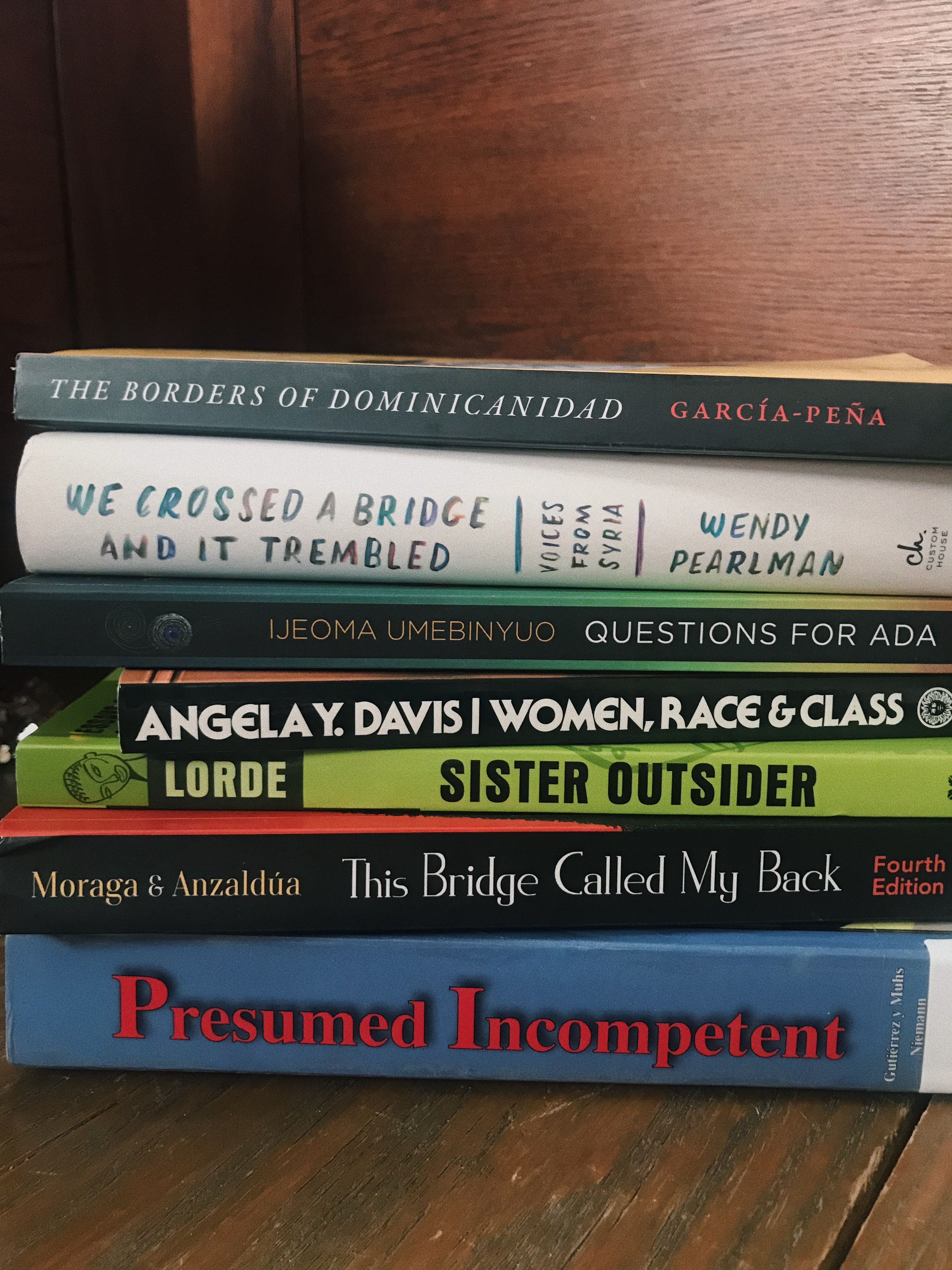 There are so many fabulous authors with incredible books out there, it's impossible to include all of them. So I tried to keep my recommendation list to a minimum.
From bottom to top:
Presumed Incompetent is the combined work of over 40 authors. It focuses on the challenges faced by women of color in academia through the use of personal narratives and research studies done on this subject. It is a gripping account of the realities of educated women of color.
This Bridge Called My Back is another anthology full of the writings of "radical women of color." It includes a variety of pieces about intersectionality, feminism, solidarity, and sisterhood. It details the diversity of experiences we have with all of the layers of our identities and gives the reader a lot to think about.
Sister Outsider is a classic, written by the iconic Audre Lorde. It includes a collection of essays and speeches by Lorde and centers the conversation on racism, sexism heterosexism, classism, and all of the other isms that exist. It is one of the most important black feminist pieces.
Women, Race, & Class is another classic written by, the one and only, Angela Davis. This book provides a historical perspective of women's liberation in the U.S. and looks at black women's place in society throughout history. Davis is still a very powerful and politically active black feminist today and all of her work are must-reads.
Questions for Ada is an easy read and a wonderful collection of poetry written by Ijeoma Umebinyuo. I re-read it every now and then when I'm feeling low. One of my favorite poems in this book reads "Nobody warned you/ that the women whose feet/ you cut from running/ would give birth to daughters with wings."
We Crossed a Bridge and It Trembled was assigned to me in my Citizenship, Migration, and Belonging class this semester but I still wanted to include it. It's very different from the other books in this list because it talks about Syria and is mainly composed of anecdotes from Syrian people, as they talk about Syria before the regime, the rise of the regime, the Syrian uprising, fleeing from home, and more. You'll definitely need a tissue when you read this book by Wendy Pearlman.
The Border of Dominicanidad is the book that I'm currently reading. It's written by Lorgia Garcia-Peña and talks about Dominican Republic and Haiti's complicated history. I really wanted to read this book because currently Dominican Republic is dealing with a lot of anti-Hatianism. Reading this book that explains the historical context of our two countries is helping me understand how we got to where we are today and will provide me with the necessary tools to explain this to other Dominicans. It's a wonderful book and easy read.
I'm still a very slow reader and have to force myself to start, but books like these are so important and make me a better academic and a better human being. So many women have written incredible books that help educate us all and understand our role in this world. I'll keep reading this kind of work and will keep you all updated with any new book recommendations!