So I have never been a math person (nor will I ever be) but my amazing stats professor, Leslie Cheng, allowed us to get extra credit if we attended a math conference at La Salle University last weekend, and I could've used the help.
At first, the conference was very confusing and had geniuses present on math that I could never hope to understand. But then for one of the activities, we played a math game. Now, that sounds super unappealing, but it actually ended up being very interesting. The game looked like this: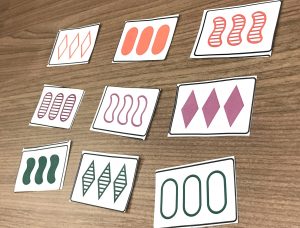 It pretty much consists of trying to get three groups of cards that are either completely different (in shape, color, consistency) or completely the same. It was really confusing at first, but became more and more intriguing. There were a ton of math theories behind the game, and though I didn't understand them, I really enjoyed how they turned math into something so easy.
The conference didn't turn me into a math fan, but it did show me how differently math can be approached. Students presented on math in poetry and math as philosophy. It was stuff that I had never heard of and was really cool to see.
I still will never be a math major, but the experience was cool and the extra credit is cool too!