Once a year, members of the Bryn Mawr and Posse community take a weekend off from our academic lives and attend the Posse Plus Retreat (PPR). This weekend event allows for students, faculty, and staff to leave campus and immerse in a long conversation about a selected topic.
My first year as a Bryn Mawr student and posse scholar, the topic of PPR was "Sticks + Stones: Language + Speech in a Diverse Society." The weekend was all about the impact of hate speech and the very real power that language holds. The following year, the topic was "Us vs Them" and we discussed the binaries and other-ing that operates all over our society. We dedicate a whole weekend to these conversations because they are essential in order to be critical of our communities and to re-imagine what they could look like.
That being said, these conversations are far from easy. They are difficult and messy and emotionally exhausting. And for people of color who are constantly having to think about these issues, it can be especially exhausting. That's why this year's PPR centered something vital to help move the conversations past a certain point; hope.
This year's PPR topic was"Hope, Hate, and Race in the United States." Almost 200 members of the Bryn Mawr community (Posse students, Posse faculty advisors, other students, and other faculty and staff) attended this event.
Throughout the weekend, two Posse alum facilitated various activities and workshops to address this topic. For one of the activities, the facilitators asked us to blurt out racial identity groups that we identify with, so that they could generate a list. At the end of that, the list read a ton more racial identity groups than the census usually gives us: black, white, Latinx, mixed/bi-racial, brown, African-american, chicana, Caribbean, indigenous, Asian, Afro-Latinx, Arab, and confused. We were then asked to group ourselves by identity and create conversation.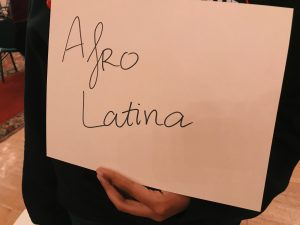 This activity really resonated with me because my identity has been something that I've struggled with for a while. Many people use ethnicity and race as synonymous when they are not. Not acknowledging the fact that there are black Latinxs and white Latinxs, conflates our experiences and the ways in which we walk through the world. But even knowing that, I had a hard time figuring out where I fall within this spectrum that is Latinidad.
Recently after doing some simple google search research and listening to podcasts, I've come to identify with this label of Afro-Latina. But, I still have a hard time understanding it.
Luckily, pretty much everyone in the Afro-Latinx group was just as confused. We were able to talk about our experiences with our identities and the journeys we've had in identifying as Afro-Latina. It was so new and refreshing to be seen and to be heard in the way that I was in that group.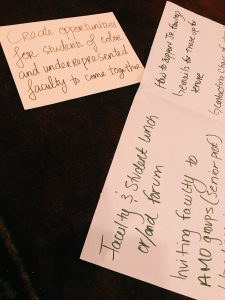 After many activities and workshops on race and hate, we were able to move onto the last chapter that is hope. The facilitators asked us to generate a list of things we want to see change around this topic on campus. We then divided into smaller groups based on what we wanted to focus on. I chose to go to the group on creating opportunities for students of color and under-represented faculty to come together. We discussed our experiences and the vision we have of the relationship between faculty and students of color on campus. Then we brainstormed some action steps on how to work towards that vision. Professor Pedro Marenco, who is a geology professor at Bryn Mawr, was part of that conversation. He was extremely helpful in providing the faculty perspective and helping us students come up with ways to build connection with our faculty. He exemplified the kind of professor who genuinely cares for their students and wants to make our experiences as meaningful as possible. I left that conversation feeling genuinely excited for the kind of work we plan to do on campus.
Usually at the end of every PPR, we get free t-shirts related to the topic. This year, however, the facilitators chose to give us journals so that we could use them to make tangible action plans towards reimagining our futures.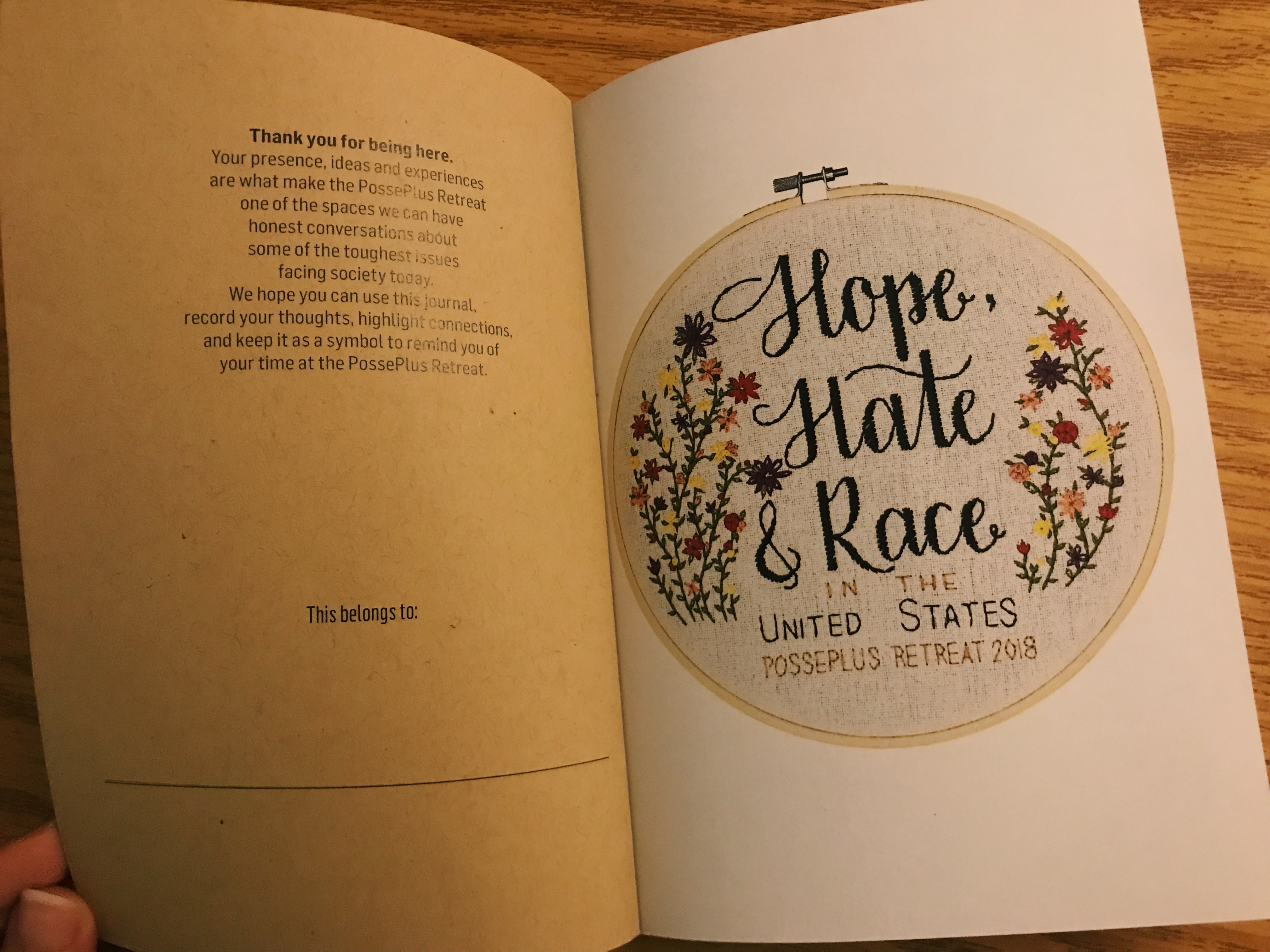 This PPR has been the most productive one I've attended while at Bryn Mawr. It was still exhausting, as having these conversations will never be easy. But, it added an element of hope and tangible change that made this weekend more than just emotionally draining conversations that don't seem to have an answer.
I genuinely commend Bryn Mawr for it's commitment to Posse. And I am constantly thankful to the students, faculty, staff that are committed to re-designing and reimagining our campus and the future of our country. They are the reason things change and get better for future generations. I'm glad to be leaving this weekend with a little bit more hope.