Switching from the hustle and bustle of study abroad to the same old routine of undergraduate studies is not an easy transition. I'm no longer taking auto rickshaws to my classes. I'm no longer being accompanied by the sweet kids in my neighborhood during my walk home from classes. I'm no longer navigating the vibrant streets of Sao Paulo on a daily basis anymore. We learn about culture shock when leaving to study abroad, but it's also very real when coming back.
Because I knew that I would miss the busyness and excitement of studying abroad, I wanted to make sure I kept busy while re-acclimating to Bryn Mawr and the rest of the tri-co. I've been doing a lot of cool stuff this semester: taking my independent praxis course, going to UPenn for my field placement, volunteering at the Center for Creative Works (CCW) for my Haverford class, and trying to make the most of being home!
I'll do a whole separate blog about my praxis and how cool the fact that Bryn Mawr offers Praxis courses is (because I think everyone should do one!) But, first, I want to take some time to write about my Haverford class and the work we're going to be doing with the Center for Creative Works. As has been a trend these past two years, I've found myself having most of my classes on Haverford's campus this semester. One of these classes is on neurodiversity, which is a term for the diversity of human neurological differences. In that class, we focus a lot on the autism spectrum and intellectual disabilities. This course has a collaboration with an art organization, the CCW, on Lancaster Ave., that focuses on the artwork and creative potential of people with intellectual disabilities. Every student in this neurodiversity class will be dedicating two hours a week to working with the CCW and collaborating with the artists on their work.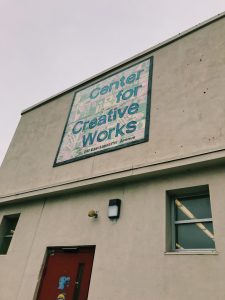 I was able to visit the CCW for the first time yesterday. While there, I got to meet all of the artists that participate at this organization and learn about their art styles and specific interests. I've never done work at an organization that works particularly with people with intellectual disabilities so I'm excited to step outside of my comfort zone and help create a bridge between our two communities.
We also have to keep our own journal for the class, where we write about our experiences volunteering and include any of our own doodles or artwork. I am NOT in any way artistically-inclined, so the doodles will be kept to a minimum for me. But after seeing some of the artists at the CCW create art about their favorite singers, actors, tv shows, places, aspects of nature, etc., I was inspired to include some of my favorite in my journal. Since I can't draw, I printed out pictures from Google and created a collage.
I am really looking forward to collaborating with the CCW and getting to know some of it's artists better. In my neurodiversity class, we're talking a lot about de-stigmatizing and de-pathologizing being neuro-diverse, as well as creating a bridge between disabled and non-disabled communities. I'll talk to the CCW about their policies regarding taking pictures of their art to see if I can share the wonderful artwork they do with you all.
I'm happy that after being abroad, I can come back and get involved in cool projects. I can't wait to keep blogging about them and to share this all with you.