The other day I attended my praxis independent study orientation, where I learned how the idea of praxis courses sprouted. Bryn Mawr students had been volunteering and interning at organizations for years without getting any payment or course credit. When LILAC noticed this, they decided to create an opportunity for Bryn Mawr students to take three courses and have the fourth course credit come from an internship/volunteer opportunity; and thus, the praxis courses began.
There are some really cool praxis courses offered this semester:
Museum Studies Fieldwork Seminar (Monique Scott)
Human Services and Public Health Seminar (Jim Martin)
Activism and Social Justice Seminar (Nate Wright)
Psychology in Practice: Community Based Learning (Jodie Baird)
Exploring Museum Applications of Augmented and Virtual Reality (Jenny Spohrer)
And Bryn Mawr also offers the opportunity of designing your own praxis course. Which is what I did this semester! I knew that coming back from study abroad, I wanted to really throw myself into my work and make these next three semesters productive ones. I had also just found my niche in what I want to study and knew that an independent praxis study would let me follow that passion.
So, I reached out to a bunch of faculty at Bryn Mawr that could potentially be my faculty advisors. I did so by looking at different department's faculty and reading their interests. I looked at the psychology department, the sociology department, and the school of social work.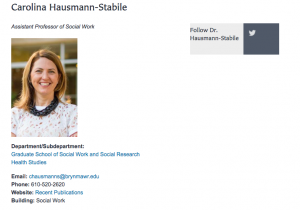 I luckily found a brilliant faculty member in social work who does work that perfectly aligns with my interests. She agreed to be my faculty advisor and I was ecstatic! Check out her work –she does really important stuff!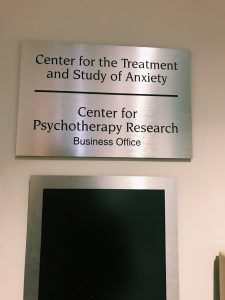 Then I moved on to the next step. I emailed probably a bazillion organizations to see if they could take me on as an intern, and whether I could do my field placement there. So many of them did not have any more space, and I was so close to giving up, but finally, I was able to secure a position at the University of Pennsylvania's Center for Treatment & Study of Anxiety.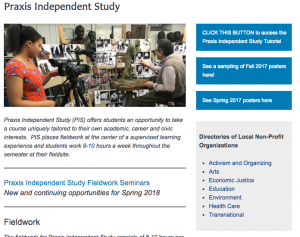 I found them through Bryn Mawr! Bryn Mawr's website on praxis independent study has a sidebar with lists of local organizations that you might be interested in to help you find a field placement. And if you're trying to find an organization, don't give up once it starts getting hard, fight for it!
I worked with my faculty advisor and field advisor to create a learning plan with my class description, class material, learning objectives, field placement roles, etc. Finally we finished it all and now I'm doing the real work.
What's really cool about doing a praxis independent study is that the course is exactly what you want it to be! I meet with my faculty advisor once a week and we discuss the readings I was assigned, figure out how they contribute to what I'm interested in, choose my next readings, and talk about the big picture of it all. As for the field component, I really appreciate that I get to do real work rather than just read about it. I also love that it gets me off campus and into the city. Once the weather warms up, I look forward to spending time in Philly after working my hours and exploring more of the city. This is something I wish I had done more of during my freshman and sophomore years, so I'm glad I have the opportunity now.
LILAC also helps to simplify the praxis process: they help you find advisors and field placements; they reimburse you for traveling costs; and they're always there to answer your questions.
I strongly urge anyone at Bryn Mawr (or Haverford) to take one of the praxis courses offered during your time at Bryn Mawr (or to create your own)! This is definitely the coolest thing I've done on campus.